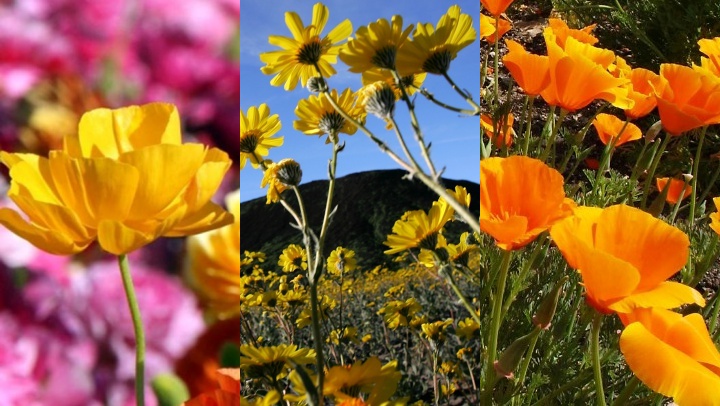 Flower Power: Blossoms must only obey their own rhythms and the course of the natural world, no calenders required. And yet? When March arrives in Southern California, the whole bud-to-bursting scene heats up. Look to our divine deserts, where all eyes are on a hoped-for "superbloom," as well as the Antelope Valley California Poppy Reserve, where the Jane S. Pinheiro Interpretative Center opens on March 1. Also on March 1? The Flower Fields open for the season in Carlsbad. The South Coast Botanic Garden Cherry Blossom Festival is on March 2, and the tulips at Descanso Gardens are starting to make a showing.
Underwood Family Farms opens: Speaking of March 1, this Moorpark agra-destination, which brims with u-pick vegetables and fruits, barnyard babies, and rustic charms, will also open for the season. You'll want to wait a few more weeks if you'd like to see the Easter Bunny at the annual springtime festival, but spring-y charms await you now (even on weekdays). If you're in the Irvine area and happen to be hankering for a farm-fun day out, check out Tanaka Farms, which opened for its season earlier in February.
Mardi Gras Begins Early: Tuesday, March 5 is officially Fat Tuesday, but, as is tradition, the good times will start rolling the weekend before. The weekend-long Original Farmers Market party will rock the zydeco tunes, classic decorations, and adorable Mutti Gras parade, while the Imperial Western Beer Co. at Union Station is throwing a Mardi Gras bash on March 3 (ticket: $40). And if you need more doggie-based Mardi Gras fun in your world? The famous Helen Woodward Animal Center Doggie Gras 5K woofs in San Diego on March 3.
CicLAvia Goes Culver City: The way-popular, totally free, cars-not-invited event hasn't quite reached its 10th anniversary yet, but that's coming up soon. Sooner than that, though? This Sunday, March 3 event, which, as always, will be a pay-nothing, come-one-come-all to-do built around people having fun on their bikes, their roller skates, on foot, or other people-powered devices. The route will encompass 6.5 miles, much of it Washington Boulevard, and Palms and Mar Vista will be on the must-visit map, too. 
Farewell, Lunar New Year: The Year of the Pig continues in happy and fortune-fun fashion, but the closing of the opening of the year has now arrived. How to tell? By the annual Lantern Festival, which is always a sign that the new year revelries are winding down. The free, afternoon-long event will take place "rain or shine," which is is worth noting, as Saturday, March 2 looks to be quite wet. You can hop on a museum tour at the Chinese American Museum or take part in another activity, and show your gratitude for the auspicious start to this auspicious and amazing year.


[ad_2]

Source link