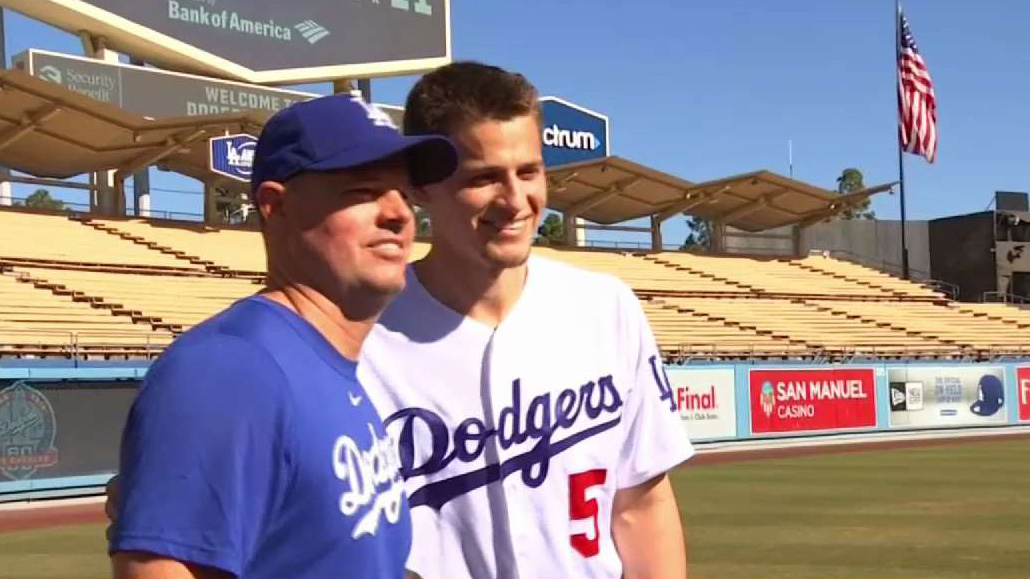 Some first responders, who are used to 96-hour shifts and tasked with saving our homes during raging wildfires, got the experience of a lifetime Wednesday as the Los Angeles Dodgers hosted the everyday heroes for batting practice.
Several hundred first responders were welcomed by the Dodgers organization as a show of appreciation for battling the recent wildfires in Southern California. Many of them spent long hours on the Hill and Woolsey fires.
"Today is about thanking them. Today is about bringing them joy," said Dodgers VP of external affairs Naomi Rodriguez.
Some rescuers said it was just the thing they needed.
"It's a great stress reliever. Yesterday I got off 72-hour shift. I'm off today then go back for another 96 hours," said LA City Firefighter Ryan Ramirez.
Dodgers shortstop Corey Seager and third baseman Justin Turner snapped photos and signed jerseys.
"This is awesome. I'm a huge fan, grew up with Dodgers. My husband is super jealous I'm here, my daughters are like, 'what? You get to go?!'" said LA County Firefighter Danielle McMillon.
Turner said it was a good day for everyone.
"It's exciting to see fans who are here, the diehard fans, get an opportunity to come on field and play catch, take some swings at batting practice, maybe they'll realize how hard it is to hit a ball out of the stadium," he said.
Firefighters said they've been overwhelmed by the support and gratitude they've received from the community, but this experience takes it to another level.
"I've been a Dodger fan my whole life, Dodger Pepsi fan club since growing up in the Valley so this is quite something. First time on the field!" said Capt. Tom Lanski with the Ventura County Fire Department.
The Dodgers will wrap up their week long Community Tour meeting with survivors of the Borderline shooting and the first responders who rushed to help.
"The fact we're on the grass where they're playing everyday, and sitting in the dugout where they have calls — it's amazing," Miguel Meza with LA City Fire said.


[ad_2]

Source link