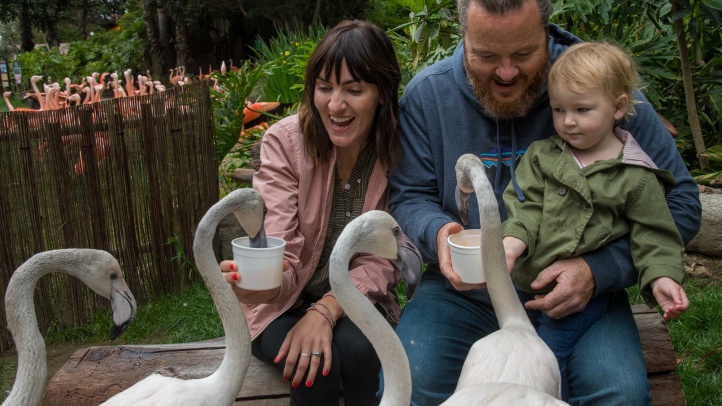 What to Know
LA Zoo and Botanical Gardens

Flamingo Mingle

$25 for fifteen minutes
Everything we do can accurately be labeled as an "interactive experience."
But while many of our daily experiences can seem a tad ho-hum, if necessary, interacting with, say, a group of flamingos definitely does not fall in the ho-hum column of life.
Where, though, can you interact with these iconic birds? And we do mean "interact," rather than viewing them from a distance?
Answer: At the brand-new Flamingo Mingle at the Los Angeles Zoo and Botanical Gardens, which is, yes, an "interactive experience," a rare opportunity that places you among a number of flamingos.
Make that a "flamboyance" of flamingos, which is one popular name for any gathering of these stately birds. Yes, we said "group" earlier, we own up, but we wouldn't want to stir any feathers in the flamingo fandom.
A fandom that, feathers crossed, we all have joined. Because flamingos? Rule.
Flamingo Mingle is 15 minutes in length, giving you ample time to observe the long-of-leg wonders from an up-close spot. And you can feed them krill, too, which is squee-able, if you're into moments that inspire the squees.
Shrimp-filled krill, we should add, because, as every flamingoan knows, gulping the tiny crustaceans are what colorfully create a flamingo's sunset-like hue.
You'll also discover how keepers care for these birds, which is also squee-able, because knowing more about nature is always good.
And possibly/probably most squee-able of all?
You won't even fight us on that, once you hear: The zoo says that there's a chance that the flamingos might groom you, if they're feeling it. 
Groomed by a flamingo? Break out all the cameras, smiles, and lifelong memories.
The cost? It's twenty five dollars per person, and up to six people may enter the flamingo habitat at a time (but no one under 2, keep in mind).
For hours and dates — Flamingo Mingle takes a couple of days off each month — do check the LA Zoo site.
There's more important stuff to know, about shoes and such, so gather your own flamboyance together and study up on the zoo's newest interactive experience.


[ad_2]

Source link