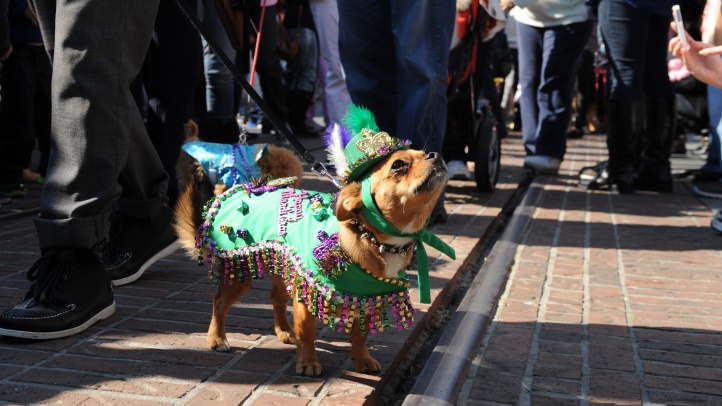 What to Know
Saturday, March 2 at noon

Original Farmers Market

Free
Our paw-rocking, wet-nosed besties are often a major part of our family festivities and community holidays, no doubt about it.
They're  known to chow down on special Christmas cookies, baked in the shape of bones, or stay up at our side on New Year's Eve, waiting for midnight (well, snoozing through to midnight, more likely).
But there are only a handful of major occasions where we pause to dress up our animal pals in finery reflecting the spirit of the moment.
One is, of course, Halloween, for sure. But Mardi Gras? The pre-Lenten celebration is making a stronger showing these days, in the dogs-wearing-togs department.
A Mardi Gras maven only need look to the pooch parades thrown at various rescues, animal centers, and local landmarks to find a Beagle boasting beads or a Pekingnese sporting purple, gold, and green. 
And one landmark where such a sight may always be seen, every Fat Tuesday season, is the Original Farmers Market at Third & Fairfax.
We say Fat Tuesday "season," for the Mutti Gras Parade will roll just a few days ahead of Mardi Gras proper, which is on March 5 in 2019.
That means you'll want to be out in the Plaza area, near the clocktower, on Saturday, March 2, should you want to see our four-footed buddies in their Bourbon Street styles.
The time? It's all dancing, er, trotting/wagging/licking, beginning at noon on the first Saturday in March.
Good to note? More Mardi Gras doings'll be popping up around the public market throughout the weekend, as well as on Fat Tuesday, too.
Want to see your own hound in the Mutti Gras parade? Find some holiday-style wearables for your BFF, the kind of feathery, shimmery looks that lend a lot of puply pomp to a buoyant, raise-the-spirits party.


[ad_2]

Source link